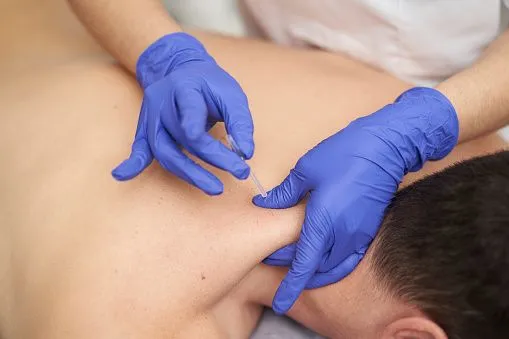 Patients with acute or chronic pain may benefit from a unique procedure known as dry needling. We offer this technique here at ComfortWorks to improve pain control, reduce muscle tension and accelerate rehabilitation from injury.
Dr. Welch inserts a thin filament needle into areas of the muscle known as trigger points- small knots that are often very tense or sore to the touch.
When the needle is inserted, it acts to jumpstart the muscle and its nerve supply. The trigger point is released, and the muscle relaxes.
Dry needling targets muscle tissue, and its nerve connections, so any condition where muscle pain or tightness is an issue could potentially benefit.
Dry needling doesn't take the place of other hands-on, one on one work that we do, chiropractic and massage therapy, but it's a valuable addition to the tools that we have to help our patients.
Dry needling is and effective. A needle is gently inserted, stays in place for 10-15 minutes, and then removed. It may cause a small muscle twitch, which is a sign that the muscle is relaxing.
Dry needling should not be confused with acupuncture. Same tools, different procedure and goals. Dry needling is based strictly on Western science and targets trigger points that are direct and palpable sources of pain. Acupuncture relies on Eastern philosophy; acupuncturists insert needles into specific locations along meridians (energy channels) throughout the body.
Conditions we treat with Dry Needling at ComfortWorks:
-Chronic or acute neck & back pain
-Lower back pain
-Shoulder & forearm pain
-Headaches & migraines
-Hip, hamstring, calf & ankle injuries
-Sports injuries
-Pain-related symptoms that get worse over time
-Temporomandibular Joint Dysfunction (TMJ)